For three months of 2005 the volume of external turnover of Azerbaijan was $1,6 bln.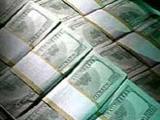 The agency Trend reports, the chairman of the State Statistic committee Arif Veliyev informed 22 April to journalists.
He said, $1,2bln from this figure was on share of trade turnover with far foreign states and about $400 mln -on the share of CIS.
He also indicated, for this period international trade relations increased as with Far states so with CIS. Totally, volume of external turnover with Far foreign states increased by 18,9%, with CIS the growth of indicator  was 14,5%.
Veliyev also indicated, from the amount of $1,6bln, $480 mln was on the share of export, $1 bln 129 mln -on import of goods. Export for this period decreased by 30%, and import increased by 67%.
"Main reason of decrease of export is filling with technical oil of pipeline Baku-Tbilisi -Ceyhan, its volume is to be 10 mln barrels of brand "?zeri light"" indicated the chairman of the State Statistic committee.