Establishment of transport system for transportation of Kazakhstan oil up input flange of pipeline Baku-Tbilisi-Ceyhan (BTC) between two states is estimated by experts twice cheaper than it has been stated previously during round of negotiations between two states.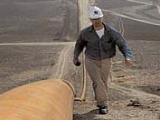 The agency Trend reports, the experts of several foreign companies, operating in the Caspian region estimate the cost of such system may be less than $1,5 bln.
Establishment of the system of delivery of Kazakhstan oil to BTC means construction of pipeline at the territory of Kazakhstan, ports in two states and tankers. Particularly, experts estimate, construction of 700 km of oil pipeline Eskene-Kiryuk in Kazakhsatan is estimated less than $1 bln. Besides, $200 mln will be required for establishment of shore terminals in both states. The construction of 5 tankers (by 60 thousand tons each) is estimated in amount $300mln.
Oil production at field "Kashagan" is proposed to start in 2008-2009. At that, during whole period of contract on "Kashagan" (30 years) it is planned to  transport in average by BTC 25 mln tons of oil annually. However, these volumes are not to exceed 10 mln tons of raw material per year.