Yesterday the president of Azerbaijan International Operation Company (AIOC) David Woodward and the heads of projects operator of which is "bp Azerbaijan" company held a press conference dedicated to the result of work done in the first quarter of this year.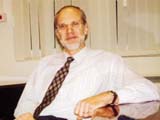 D.Woodward stated that, no accidents were let during the execution of projects in this year and there was no employment day was lost. President of the company stated that, during this year the production from central Azeri field launched and noted that in the current year, oil production of 227 thousand barrels per day is planned on average.
According to him, operation expenses of Azeri-Chirag-Guneshli project were spent $159 million fundamental expenses will be spent $2 billion 360 million this year: "Construction works on "Shahdeniz" project continue successfully. The gas that will be produced from this field is expected to be reached to world markets till the winter of 2006. Totally 53% of the construction works on Stage-1 of the project are over".
D.Woodward stated that, in the first quarter of this year 1.7 million tons of oil was exported by Baku-Supsa line and 135 thousand tons by Baku-Novorossiysk oil pipeline. He stated that the first tanker loaded with oil to be exported by Baku-Tbilisi-Ceyhan pipeline will be seen off from Ceyhan port in the second quarter of this year.
According to him, the construction of the pipeline in the first quarter of this year was satisfying, but in May the pipeline in "Sangachal" terminal will be loaded with oil. In the first quarter of this year fundamental expenses of the project was $307 million. 96% of total work in Azerbaijan, 92% in Georgia and 90% in Turkey has been fulfilled.
/APA/