The head of the company Palmali, operating in Turkey, Mubariz Mansimov invested for construction of dairy factory in Lankoran an amount of 4 mln EURO. The agency Trend reports, the head of Executive power of Lankoran Zeynal Nagdaliyev informed about this.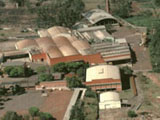 He said, presently, the factory is supplied with modern equipment, meeting with modern standards.
"After start of activity of factory, about 20 thousand families of the region are to sign contracts with this company. Milk collected from private households is to be delivered here without losses", the head Executive power underlined.
He said, dairy products are to be sold in the first turn in the region and neighborhood regions and in Baku. Definite part if production of dairy factory is to be exported.
"Participation of the company "Palmali" is not restricted only with this project. Mubariz Mansimov invested finances into stadium constructed in the city Lankoran and also plans financing construction of private educational complex. "Palmali" participates in construction of port in Lankoran just as well", Z.Nagdaliyev stressed.