Five companies, participants of the project on development of the field "Shah-Deniz", will get privilege tariff on pumping of condensate by pipeline Baku-Tbilisi-Ceyhan (BTC), the agency Trend reports, projects sources informed.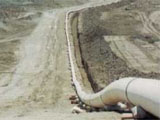 The speech is about such companies, as SOCAR, BP, Statoil, TRAO and TOTAL.
These companies participate (i.e. are investors) in "Shah-Deniz" and Baku-Ceyhan, by means of which they will sell condensate in the project Baku- Ceyhan, which falls on their share. Those companies, which do not participate in the project Baku-Ceyhan, but will pump their own condensate from Shah Deniz by pipeline, will get higher tariff, distinguished from that which will be proposed to investors in BTC. The following companies are in this group:  Iranian OIEC and Russian LUKOIL.