The ministry of youth, sport and tourism plans reaching number of tourist arriving to the sate up to 3 mln, in the nearest 5-6 years, the agency Trend reports 7 April, the minister of youth, sport and tourism Abulfaz Garayev informed at the opening ceremony of international exhibition "Tourism and travels".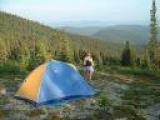 He said, the Ministry undertakes several measures on tourism in the state, on attraction of foreign investment in this sphere, on improvement of services of hotel and hotel networks. The Minister said, number of tourists arriving to Azerbaijan in 2004 was 1,3 mln, they stayed in 52 hotels, additional 20 hotels are to be constructed by the end of the year and they are ready to receive  visitors. 
"Now we are ready to receive no more than 1 mln tourists, otherwise we  shall have problems" acknowledged the minister, however he expressed his hope,  as a result of undertaken measures after several years Azerbaijan would be able  to receive more than 3 mln tourist per year.
About 80 companies from 25 states of the world, who demonstrate and propose their services, participate at the exhibition.