Yesterday an economical forum with the participation of businessmen representing different spheres of economy was held in the International Business Center.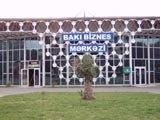 The forum involved the representatives of more than 20 companies of this country at the head of Minister for Foreign Affairs of Slovenia, the acting chairman of OSCE Dimitri Rupel.
40 businessmen from Azerbaijan participated in the forum. The Minister for Economic Development Farhad Aliyev invited the businessmen of Slovenia to benefit from the fruitful investment environment and strengthen the economical relations between the two countries. The Minister for Foreign Affairs of Slovenia Dimitri Rupel expressed his satisfaction of the economical reforming in the country, said that, development of Slovenia-Azerbaijan economical cooperation is highly appreciated in his country.
Business-like meetings were held between the businessmen of the two countries in the ceremony. Slovenian side was represented by the companies involved in the spheres such as metal treatment, wood processing, telecommunication, steel producing, pharmacology, construction, profession of engineer, and commerce.
Local entrepreneurs presented the information on economical interest to Slovenian side. Azerbaijani businessmen offered them that, they intend to cooperate in agriculture, produce of agricultural products and their packing, information technologies, construction materials , and other spheres.