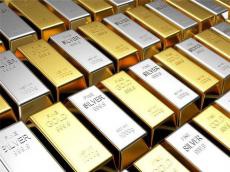 By  Trend
Prices for precious metals except for palladium changed over to increase in Azerbaijan on Aug. 6, according to the data published by the country's Central Bank.
The price of gold increased by 13.5235 manats to 2066.01 manats per ounce in the country on Aug. 6, compared to the price on Aug. 3.
The price of silver increased by 0.2476 manats to 26.2594 manats per ounce.
The price of platinum increased by 16.1415 manats to 1415.8535 manats.
Meanwhile, the price of palladium decreased by 5.0825 manats to 1557.795 manats in the country.
Precious metals

Aug. 6, 2018

Aug. 3, 2018

Gold

XAU

2066.01

2052.4865

Silver

XAG

26.2594

26.0118

Platinium

XPT

1415.8535

1399.712

Palladium

XPD

1557.795

1559.8775