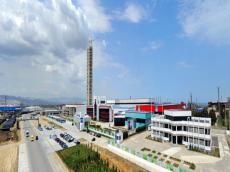 By Azernews
By Sara Israfilbayova
Sumgait Technologies Park offers qualitative and affordable products as a manufacturer of many products in Azerbaijan's oil and gas sector, the enterprise told Azernews.
"The success of the STP leads to a decline in the cost of products that are essential to the industry, to a production of high quality domestic products, and to a reduction in import dependency," the Park stressed.
Further, it was stressed that there are 13 factories and more than 30 production sites in the enterprise.
Answering the question about in which countries STP's products and services are being exported, the enterprise representatives mentioned such countries as Turkmenistan, Kazakhstan, Tajikistan, Kyrgyzstan, Georgia, Russia and Turkey, adding that the STP aims to increase its operations in the Asian market in the future, as well as to access Western European and African markets.
"STP exports such products as small, medium and high voltage cables, polymer pipes, galvanized metal. In the future, it is also planned to shift the aluminum profile, sandwich panels, alcophane and other products to foreign markets," according to the STP.
"Sumgait Technologies Park is a large and technologically advanced production facility with a specialized team, high-end equipment and diverse production capabilities. This also allows Azerbaijan to significantly increase its power and scope in the non-oil sector," the enterprise stressed.
Speaking of the future plans, the Park representatives noted that they intend to further improve the products and services and increase their range.
"By maintaining the quality standard, we will represent the "Made in Azerbaijan" brand not only in the local market, but also in the global environment. Also, one of the key goals is to increase our foreign sales and get ahead of the region's future projects. The STP will also consider additional opportunities to follow the high growth rates of the non-oil sector of the country," the enterprise concluded.
STP as a pioneer in the establishment of Technological Park in the region, is also a complex of plants qualified in different manufacturers. STP is a unique project in the region capable to satisfy the requirements of domestic market as well as foreign market.
More than 4,500 people are currently employed in the production and construction-installation fields of the organization. After the launch of all planned plants, 10,000 people more is expected to be employed that it will help to imrpove living standarts.
STP has been launched by the President of Azerbaijan Ilham Aliyev on December 22, 2009.