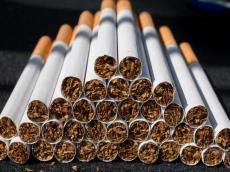 By Azernews
By Durdana Yusifli
The taxes on tobacco products have been raised in Azerbaijan, as the Parliament at a plenary meeting has adopted amendments to the Tax Code.
The new amendments provide for an increase in the excise tax for production of cigars and cigarillos in the country.
Thus, from now on, a tax of 20 manats ($11.7) will be levied for every 1,000 cigars produced in Azerbaijan. Previously, this tax amounted to 10 manats ($5.8).
In January-April 2018, tobacco products amounting to 11.51 million manats ($670,000) were produced in Azerbaijan, according to the State Statistics Committee.
During the reporting period, Azerbaijan exported tobacco and its industrial substitutes worth $3.99 million, imported - worth $34.93 million. In comparison with January-April, 2017, exports decreased by 25.61 percent, imports - by 22.51 percent.
Hasan Nagvi, Head of the World Bank in Baku office, said that the taxes on tobacco products in Azerbaijan should be increased.
He said that low taxes on tobacco products lead to two problems. First, the government received less profit from the tobacco industry. Secondly, low taxes on tobacco products caused cheapness of cigarettes and their availability, which led to their excessive consumption of them.

"During the year, we repeatedly sent our proposals to the government, and we are glad that the ministries of tax and health have a full understanding of this issue," Nagvi said
Head of the World Bank in Baku said that Azerbaijan could benefit from Turkey's experience in this matter.
Thus, the increase in the price of tobacco products in Turkey caused not only an increase in the collection of taxes by 175 percent, but also a 16 percent decrease in cigarette sales. Now the cigarette tax in Turkey is about 75 percent of the cost of cigarettes, according to Nagvi.
In late December, Azerbaijan adopted the law "On Restriction of the Use of Tobacco Products".
In accordance with the law, smoking is forbidden throughout the territory of various educational institutions, in hotels, health care facilities, rehabilitation centers, health resorts, social facilities, theaters and cinemas, at exhibitions, reading rooms, libraries, museums and other cultural institutions, in underground and overground crossings, buses (including intercity and international), taxis, metro, air, railway, sea and river transport, bus stops, railway stations, river and sea ports, airports, elevators, common areas of multi-apartment buildings, in buildings and enterprises where flammable substances are stored, on playgrounds, beaches, workplaces of organizations, enterprises, offices, regardless of organizational and legal form and ownership.
Allocation of places for smoking will be transferred to the discretion of employers. In addition, municipalities are given new powers to take action against the use of tobacco products. They will take steps to restrict the use of tobacco products.