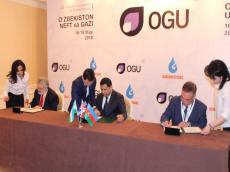 By Azernews
By Kamila Aliyeva
British Petroleum Exploration (Caspian Sea) and Azerbaijan's state oil company SOCAR are considering the possibility of geological exploration in Uzbekistan.
This is stipulated by two documents signed within the framework of the 22nd International Exhibition "Oil and Gas of Uzbekistan - OGU 2018" in Tashkent on May 16.
In particular, Uzbekneftegaz JSC and SOCAR and British Petroleum Exploration (Caspian Sea) signed a Memorandum of Understanding on studying the possibility of joint exploration and development of deposits in Uzbekistan and a Memorandum of Understanding on exploring the feasibility of geological exploration on investment blocks of the country.
 "The documents provide for the study of materials on geological prospecting. BP is our partner. Moreover, in addition to these documents, we are also discussing the possibility of participation of the Uzbek side in geological exploration in Azerbaijan," said SOCAR Vice President Bahram Huseynov.
The implementation of the signed documents will make it possible to apply advanced foreign technologies and methods to improve the efficiency of hydrocarbon search and extraction. This, as expected, can facilitate the discovery of new deposits, and improve the skills of domestic specialists.
Earlier, Uzbekneftegaz signed an agreement on strategic partnership with the Azerbaijani company. It envisages the training of Uzbek specialists in SOCAR, as well as the participation of Uzbekneftegaz in projects on the shelf in Azerbaijan.
In June 2017, SOCAR and Uzbekneftegaz reached a strategic agreement on joint oil and gas operations in Uzbekistan, offshore projects in Azerbaijan, as well as in third countries.
In recent years, 211 hydrocarbon deposits have been discovered in Uzbekistan.