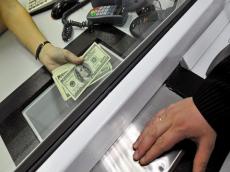 By Azernews
By Amina Nazarli
Activity of the currency exchange offices outside banks maybe resumed in Azerbaijan, as the Parliament will consider the corresponding amendments to the "Law on Currency Regulation".
Since January 2016, the currency exchange offices can operate only in banks and post offices. If amendments are adopted, the currency exchange points will be opened not only by residents of Azerbaijan, but also by foreign companies in their branches in the country.
Tahir Mirkishili, a member of the Parliamentary Committee for Economic Policy, Industry and Business said that the reason for resuming the activity of the currency exchange offices is linked with the restoration of macroeconomic stability in the country.
"Earlier some exchange points were engaged in illegal activities, speculations. Such cases negatively affected the macroeconomic stability in the country. However, currently, the country is restoring its economic stability," he told Qafqazinfo.
Mirkishili named the holding of high0-level international eveners in the country as another reason for this.
"Azerbaijan expects big tourists flow. There is a need to create conditions so they can quickly change their currency," he said.
Zakir Nuriyev, Chairman of Association of Azerbaijani Banks said that the resumption of the work of currency exchange points will contribute to the development of tourism and financial markets in Azerbaijan.
"Azerbaijan implements special programs for the development of tourism and financial markets. For their successful implementation, it is necessary to create all necessary infrastructures and its effective work. From this point of view, the new bill can contribute to it ," Nuriyev said.
"Those who wish to open currency exchange points will have to implement special requirements for the formation of capital. They will also need to place a deposit in the bank," the chairman of the association added.