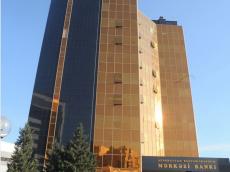 By Azernews
By Amina Nazarli
There is not economic ground to suggest that the U.S. Federal Reserve System (FRS) decision to raise the interest rate to change the exchange rate of Azerbaijan's national currency [manat] with regard to dollar.
The Central Bank of Azerbaijan told Trend that possible increase in the exchange rate of U.S. dollar on the world markets after the Fed's decision to raise interest rates in a bid to hold off inflation remains a topical issue.
"The processes indeed make one expect this step to have a psychological pressure on the currency market of Azerbaijan. But this has no economic ground, because exchange rate of manat with regard to U.S. dollar is currently regulated by supply and demand on the currency market of the country.
The ratio of supply and demand on foreign exchange markets depends on the payment balance. So, along with the amount of currency imported into and exported from the country, the amount of transfers from the State Oil Fund for budgetary purposes is also taken into account," the CBA reported.
In general, the CBA said that the Fed's decision in the short term usually affects the countries where speculative capital inflows are carried out in large volumes.
"Since Azerbaijan does not belong to such countries, the Fed's decision is not expected to produce any short-term impact.   
This decision does not directly affect the manat rate as well. The decision of the Federal Reserve may affect such countries as Azerbaijan in the medium and long term, but the state and the Central Bank are undertaking and will continue to take adequate macroeconomic stabilization measures to regulate this influence in a proactive manner," the CBA reported.
The U.S. Federal Reserve raised interest rates on Wednesday for the second time in three months, a move spurred by steady economic growth, strong job gains and confidence that inflation is rising to the central bank's target,
The decision to lift the target overnight interest rate by 25 basis points to a range of 0.75 percent to 1.00 percent marked one of the Fed's most convincing steps yet in the effort to return monetary policy to a more normal footing
The Fed's projections showed the economy growing by 2.1 percent in 2017, unchanged from the December forecast. The median estimate of the long-run interest rate, where monetary policy would be judged as having a neutral effect on the economy, held steady at 3.0 percent.