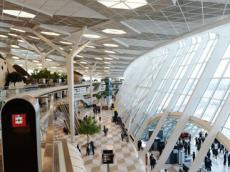 The Flight Operations Control Center has opened at the Heydar Aliyev International Airport.
President of the Azerbaijan Airlines closed joint-stock company Jahangir Asgarov and foreign experts got familiar with the facilities of the center. One of the expert groups is responsible for registering the route of aircrafts at local and international airports, calculation of fuel, choosing the reserve aerodromes. Flight organization and management controllers got license of the US Federal Aviation Administration from the State Civil Aviation Administration.
The other group includes experts for providing air navigation of group flights. They are responsible for securing the flight permission at the airports worldwide and constant monitoring and analysis of the air space.
Former general of the US transportation command Duncan J. McNabb said that after talks with the Azerbaijani side it was decided that the center will be a perfect facility. The center must be perfectly equipped. According to him, the conduct of the first European Games in Azerbaijan is the most important factor stipulating establishment of the Center.
American expert Mike Senior said that this center is the world's first to handle for aircrafts at a time. This project is unrivalled.

/AzerTAc/