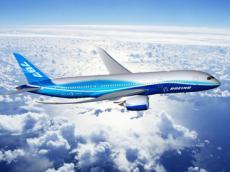 "Azerbaijan Airlines" (AZAL) will receive "Boeing-787 Dreamliner" aircraft by spring 2015, a source in AZAL told
Trend
on Aug. 11.
AZAL previously ordered two aircraft of this model from "Boeing" company.
Previously it was assumed that AZAL will receive the first "Dreamliner" in June-July 2014, and the second one - in November.
"According to the plan, the country will obtain the aircraft by turn in spring 2015," the source said.
Another source in AZAL previously said that the airline previously decided to refuse from purchasing "Boeing-787 Dreamliner" aircraft. This was associated with a number of problems that have arisen in some countries airlines with these planes.
AZAL's current fleet consists of "Boeing 757-200", "Boeing 767-300", "Airbus 319", "Airbus A320", "Airbus A340-500", "Embraer ERJ 170-100LR" and "Embraer ERJ 190-100" aircraft.