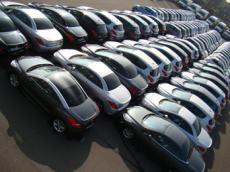 By AzeNews
The import of cars in Azerbaijan has reduced by over 20 percent in first five months of 2014.
In January-May, Azerbaijan has imported 30,576 cars, State Customs Committee reported on June 18. This is 23 percent less than in the same period of 2013.
The report shows that 27,444 imported cars, or 89.8 percent, are cars and motor vehicles for transportation of people. This index was 35,816 cars units in January-May 2013.
Moreover, 8.9 percent decline in import of the trucks was also marked in the period.
A decline in import of cars to the country was also noted in May.
In total, 104,385 cars against were imported in Azerbaijan in 2013. Experts project that the number of imported cars will be reduced by about 20 percent to 75,000 units in 2014.
Economist Oqtay Haqverdiyev connects this fact with shifting to the Euro-4 standard and the market saturation.
Azerbaijan has stopped import of cars that are not corresponding to Euro-4 standard from this April.
Thus, only cars produced in the EU since 2005, in the U.S. since in 2004, in China and Japan since 2011, in Korea since 2006, and in Turkey since 2009 can be imported to the country since April 1.
"The shortage of the import can be connected with cars imported to Azerbaijan from Georgia - old cars from Europe," Haqverdiyev said.
Currently cars produced in Russia, which are popular in Azerbaijan, are corresponding to Euro-3 and cannot be imported to the country. This has lead to the rise of cost of low cost cars that were already imported to the country.
Experts believed introduction of Euro-4 standard will increase prices by four percent, however the growth may continue. The prices for relatively old cars can increase by about seven percent by late 2014.
However, the decrease of prices for cars produced in 2010-2011 is expected by eight percent.
Moreover, late last year, the Central Bank tightened control over consumer's loans and lending terms for buying car, which was connected to the deterioration of the portfolio quality of the banking sector for this type of lending.
All these processes have an impact on the car market and may lead to reduction in the number of cars in the country, which will only improve the situation on the roads.