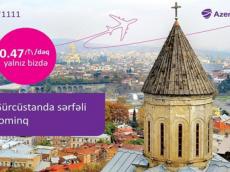 Azercell Telecom continues to please its subscribers with beneficial tariff packages and new campaigns.
On the eve of the upcoming summer season, the Company takes into account the interests of subscribers willing to travel abroad and offers discounts for roaming services. So, as of May, 21 Azercell subscribers in Russia, Turkey, Georgia and Germany will talk to all destinations for only 90 qapik per minute. The subscribers travelling to Georgia will pay with tariff of 47 qapik for 1 minute of roaming calls.
Destination

Service type

Unit of calculation

Service cost in AZN

(incl. VAT)

Russia

Calls to all directions

One minute

0.90

Turkey

0.90

Germany

0.90

Georgia

0.47
As of January 1, 2014 Azercell Telecom introduced its subscribers a new, single and substantially lower tariff for international calls. Today the cost for all international calls for Azercell subscribers is equal to 32 qapik.
The country's leading mobile operator also offers additional 25% discount for international calls on holidays and weekends (during the entire day) and in the week-days between 00:00-08:00. So, during these time periods the subscribers will only pay 25 qapik for a minute of international calls and will get a chance to enjoy the advantages of high-quality service. Moreover, during the international calls Azercell applies second-based interval for all its subscribers!
Currently, Azercell Telecom has roaming agreements with 444 mobile operators from 159 countries.

/AzerNews/