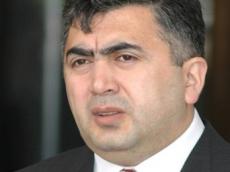 By AzerNews
Each year some 20 percent of all investments in Azerbaijan are made in the country's transport sector, Azerbaijan's Deputy Transport Minister Musa Panahov said during the international TransEurasia-2014 conference on transit and transport potential in Kazakhstan's capital Astana on May 22.
"Over the past five years, annual investment in transport sector amounted to 20 percent of all investment in the country's economy. Over the past 10 years, the average annual increase in traffic amounted to 5.7 percent," he noted.
The deputy minister went on to add that connecting the trans-European to trans-Asian transport networks is the basis of Azerbaijan's transit policy.
Touching on the construction of the Baku-Tbilisi-Kars railway Panahov said it will come to an end in 2015.
The Baku-Tbilisi-Kars railway is a regional rail link project that connects Azerbaijan, Georgia, and Turkey.
The total length of the Baku-Tbilisi-Kars railway is 826 kilometers (about 513 miles). After commissioning the railway, mutual trade between Azerbaijan, Georgia, and Turkey will increase significantly and the total volume exceeding $10 billion per year.
Panahov also said Azerbaijan is building a new international sea trade port.
A new port at the Alat settlement in Baku's Garadagh district is currently under construction by the Complex Construction Directorate under the Transport Ministry.
Construction work which started in November 2010 is carried out in three stages. The first phase of the project involves the construction of two ferries and three cargo berths for receiving containers and conventional bulk carriers; the second phase of the project envisions the construction of three additional cargo berths, and the third one concerns the construction of two more cargo berths.
In the first stage, the port will be capable of handling up to 10 million tons of cargo; in the second stage, its capacity will reach 17 million tons of cargo, and in the last stage, the port will handle 25 million tons of cargo.
In addition to a logistics center, a free economic zone will be created in the territory of the port in the future. Construction work will cost the Azerbaijani government more than $1.1 billion.