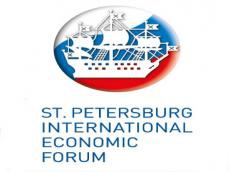 American chief executives are being urged by the White House to stay away from Russia's annual economic showcase.
Hosted by President Vladimir Putin in St. Petersburg -- the former capital of imperial Russia -- the event typically draws 100 global CEOs eager to network with officials, party with clients, do deals with oligarchs or just enjoy a night at the ballet.
The St. Petersburg International Economic Forum, which runs for three days starting May 22, has been compared to the annual January gathering of world leaders and executives in the Swiss resort of Davos. This year will be a much more subdued affair, however.
The West has slapped sanctions on dozens of Russian officials over the crisis in Ukraine, including some members of Putin's inner circle.
The United States has also targeted 18 Russian companies with sanctions, and warned of tougher measures aimed at critical sectors of the economy if Moscow fails to use its influence to reduce separatist violence in eastern Ukraine.
White House spokesman Jay Carney said the U.S. administration was making clear in conversations with American firms that it would be inappropriate for senior executives to make the trip to St. Petersburg.
And Laura Lucas Magnuson, a spokeswoman for the National Security Council, said "senior business executives traveling to Russia to make high profile appearances with Russian government officials at events such as this would send an inappropriate message, given Russia's behavior."
GE CEO Jeff Immelt won't be going, unlike last year. A spokesman said this is because he is due to give a speech in Florida earlier that week.
Citigroup CEO Michael Corbat, who also went last year, has withdrawn. "While our CEO is not able to attend SPIEF this year, Citi will have several representatives at the forum," said spokesman Mark Costiglio.
Similarly, Alcoa CEO Klaus Kleinfeld has also dropped plans to attend, but the company will participate, said spokeswoman Monica Orbe.
"In light of the U.S. government's requirements, Alcoa has adjusted its attendance at the St. Petersburg International Forum and will participate via its most senior Russian executives," Orbe said.
According to a list of participants on the forum's website, the CEOs of Goldman Sachs and Morgan Stanley still plan to go. Both banks declined to comment. But a person familiar with the situation said Goldman's Lloyd Blankfein was "unlikely to attend."

/CNN/