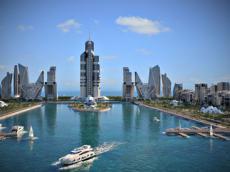 The first phase of construction works at the huge Khazar Islands project will be completed in May this year, Avesta concern reported.
According to the company, the opening of a number of facilities, including beaches, restaurants, bridges and roads, are scheduled on May 28, 2014.
Besides, 4 km-boulevard and 2 parks (5 hectares for each) will be put into operation.
The total investment required is estimated at $ 100 billion in the Khazar Islands project.
In general, it is planned to construct 20 km-boulevard and 20 bridges. The tallest building on the planet, the 1,050 meter-high Azerbaijan Tower, will be built in the territory of Khazar Islands as part of the second phase of the project. The completed Khazar city will boast more than 150 schools, numerous hospitals, and clusters of parks, shops, and cultural centers. A yet-to-be-constructed airport will provide international access to the area.
The islands will be dominated by high-rise buildings and resort-like accommodations, with miles of unspoiled beaches and warm, shallow waters. Special considerations were taken in the design of the island`s structures to withstand up to a 9.0 magnitude quake.
Work on the project to date has been funded by the Avesta Group itself. The Company hopes to reach annual profitability margins of 10-15 percent on investments.

/AzerTAc/