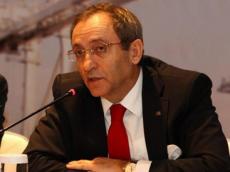 By AzerNews
Azerbaijan's state energy company SOCAR will invest almost $7 billion in developing the peninsula in which the Petkim Petrochemical Complex is located, Petkim said.
A new refinery and power plant is planned to be constructed and a container terminal will be developed near the Petkim complex in order to ensure its development and provide it with raw materials, the holding noted.
The company also said no less than $100 million is invested in the development of Petkim complex each year.
Investments in the development of the complex will amount to $114 million in 2014.
Petkim's share in the Turkish market is expected to hit 40 percent by 2023, Petkim said.
Petkim Petrochemical Holding, in which SOCAR owns equity shares, manufactures plastic packages, fabrics, PVC, and detergents, and is the only Turkish producer of such products.
A quarter of Petkim's products are exported to foreign markets.
The total production volume of the holding amounted to nearly 2.82 million tons in 2013, compared to 3.03 million tons in 2012.
The net profit of the Turkish Petkim Petrochemical Holding amounted to 49 million liras in 2013 compared to 17 million liras in 2012. The total volume of Petkim's sales amounted to nearly 4.16 billion liras in 2013, compared to 4.35 billion liras in 2012.
Petkim plans to bring its production capacity to 3.6 million tons per year by late 2014.
Earlier, Head of SOCAR Turkey Enerji (Turkish division of SOCAR) and board member of Petkim Kenan Yavuz said SOCAR's investments in Turkey are its largest direct investments.
It is possible that SOCAR's investments in Turkey's economy will reach $20 billion as a result of implementing a number of projects, he noted.