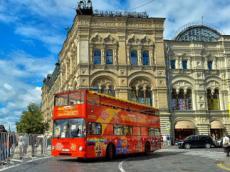 City Sightseeing Worldwide has opened an office in Baku under an agreement signed between the Ministry of Culture and Tourism of Azerbaijan and the company.
A presentation ceremony of the project will be held at the "AITF-2014" 13th Azerbaijan International Tourism and Travel exhibition from April 3-5 at the Baku Expo Center.
City Sightseeing Worldwide company is the world's leading open top bus tour operator. City Sightseeing was created in 1999 in Seville, Spain and this tour is still the back bone of our worldwide operations. Starting with just four tours in 2000 and initially as a joint venture between UK based Ensign Bus and newly established City Sightseeing Spain, City Sightseeing is now a well-known feature in almost 100 locations worldwide which span six of the seven continents. Our bright, cheerful and fun-filled red open top buses are sought after by tourists and visitors to some of the world's top destinations.
It was in 1998 that the idea of the City Sightseeing brand was first conceived. After extensive market research in Seville, it was established that tourists and visitors would welcome a recognised brand in other destinations – a brand they could trust and be sure of the same quality and standards in each location. It was from this point that the synonymous red and yellow branding on double-deck open top buses was created and started to appear around the globe. The City Sightseeing franchise concept was launched at the 1999 World Travel Market in London, England.
The franchised brand started to expand around the world, initially in the UK with Glasgow and then Canberra in Australia. By 2000 the operations expanded with the introduction of UK tours in Bath, London, Edinburgh and York plus further expansion in Spain and Australia and new locations such as Istanbul, Turkey and Copenhagen, Denmark, closely followed by new tours in Italy. In 2000 a sophisticated on-line booking system was launched.
By 2002 City Sightseeing had acquired its biggest rival, Guide Friday and overnight took the brand to nearly 70 tours with 250 buses worldwide. During 2003 and 2004 City Sightseeing continued to expand and break new ground with the introduction of purpose built low-floor open top double deck buses to tours both in Spain and the UK.
The press tour will be organized on April 4 at 15:00 in front of the Azadlig square for journalists.
The full information is available here:
Corporate video: http://youtu.be/I72E3_TzbpU
+99455 930 00 39
office@cssbaku.az
www.CSSBAKU.az 

/AzerTAc/