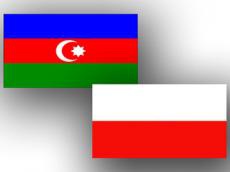 The agrarian sector, production of food products, and other areas can be promising spheres for expanding the cooperation between Azerbaijani and Polish entrepreneurs, director of the Foreign Relations Department of Poland's National Chamber of Commerce, Jerzy Drozdz said during a meeting with Azerbaijani journalists on March 31 in Warsaw.
"We positively assess the cooperation with Azerbaijan, especially between small and medium-sized enterprises and want the Polish entrepreneurs to establish cooperation with their Azerbaijani colleagues. Certain agreements have been reached in the sphere of industrial production and I hope these agreements will be implemented in the near future," Drozdz said.
Polish entrepreneurs gradually are moving to a new stage of cooperation, namely to the stage of making investments, according to the department director. Several Polish firms make investments in Turkey, as well as in a number of CIS countries. These firms also expressed readiness to participate in the Azerbaijani market, Drozdz said.
"Azerbaijan is known as the world's oil country, and everything that is connected with the oil industry is also interesting for Polish entrepreneurs," the department director said.
Polish companies can also export high quality construction materials to Azerbaijan, Drozdz said.
"Polish firms have found a way for entering some markets with high quality products at low prices. And Azerbaijan can be another such market," the department director said.
These aspects of future cooperation will be a subject of discussion in negotiations during the next meeting of Azerbaijan-Poland intergovernmental commission on economic cooperation to be held in April In Baku, according to Drozdz.
"A business forum can be organized within the intergovernmental commission. Many Polish companies may be interested in making investments in Azerbaijan, especially in the areas such as ICT, infrastructure, transport, urban infrastructure, agro-industrial sphere and others," Drozdz said.
Poland is also interested in Azerbaijan's experience in the oil production sphere.
"Poland has small oil and natural gas fields and Azerbaijan can share its experience in this sphere," the department head said.
Poland's Chamber of Commerce was founded in 1999.
The chamber mainly focuses on international cooperation, participation in international exhibitions, fairs, organization of forums and participation in them.
Poland's National Chamber of Commerce has contracts with over 100 similar organizations throughout the world.
The chamber has signed over 100 agreements on partnership.

/Trend/