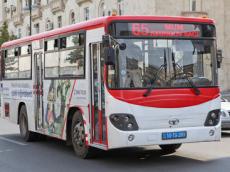 In order to better the transport service in Baku territory, 20 new made in Korea buses have been brought to the capital city.  
These 2-door buses of Daewooo brand are designed for 24 passangers. Buses are equipped with heating sistem.
Note that the new buses are operatig on three routes: 85, 79 and 65. New buses belong to private entrepreneurs. The price for a bus of this brand is approximately 20 thousands manat.

/APA/