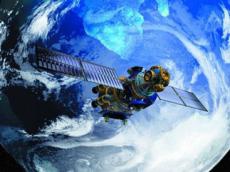 By AzerNews
Azerbaijani space agency "Azercosmos" started test broadcasting of Georgian TV channels via Azerbaijan's first telecommunications satellite Azerspace.
Currently, the Azerbaijani satellite is conducting test broadcast of Georgian TV channels such as "Obieqtivi TV", "2 TV", "Comedy Arkhi", "Vip TV", "Trialeti", "TV 3", "GDS TV" and "Quality Channel".
Azerspace is broadcasting over 80 TV and radio channels. The TV content is available when satellite antennas configured with 11,169 MHz frequency, 20,400 speed, Horizontal and FEC - 5/6 polarization.
The Ukrainian state television, Turkish VTV Antalya channel have started broadcasting via Azerspace-1 in August, while North African telecommunication operators have began using resources of the satellite from May.
Moreover, Afghanistan and Iraq are also interested in using Azerspace-1 possibilities in the future.
Azerspace-1, which was launched in February 2013, covers Eastern Europe, the Caucasus, Central Asia and North Africa. Some 80 percent of the satellite's resources are available for commercial purposes.
The satellite was designed to offer digital broadcasting services, Internet access, data transmission, to create multiservice VSAT networks and to provide for governmental communication.
The term of exploitation in the orbit of Azerspace-1, which is expected to fetch $500-600 million to the country, will be up to 15 years.