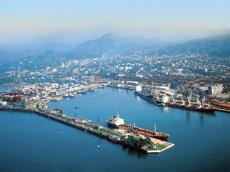 The cargo turnover of the Batumi Sea Port amounted to 1.7 million tons of dry cargo in 2013, which is nine percent more than in 2012, but five percent less than the plan for 2013.
Azerbaijan ranks first among the countries receiving transit cargo handled by the port, the port told Trend on Feb. 5.
Some 80 percent of all transit flow for 2013 falls to Azerbaijan, the Batumi Sea Port said.
Most goods, mainly ore are supplied from Ukraine.
The volume of transit goods making up the bulk cargo flow increased by six percent in 2013 and amounted to 731,700 tons. The share of import and export goods decreased by two percent and four percent and amounted to 35 and 22 percent.
The U.S is the main country receiving export cargo handled by the port. Around 53 percent of total export cargo flow falls to the Batumi Sea Port.
Around 714 ships were handled by the Batumi Sea Port in 2013.
Raw sugar (528,100 tons or 31 percent of the total volume), ore (505,300 tons or 29 percent) and ammonium nitrate (268,800 tons or 16 percent) are the main dry goods handled by the port in large volumes.
The port exceeded the plan for handling liquid cargo (vegetable and industrial oils) by 27 percent - up to 146,600 tons and cement - 33 percent (66,500 tons) in 2013. The plan for handling grain cargo was implemented 100 percent.
Batumi Sea Port together with Batumi Oil Terminal is part of Batumi Industrial Holdings Ltd, which is a 100 percent subsidiary of KazTransOil.
Batumi Industrial holdings Ltd. acquired the right to long-term management of the seaport in Batumi in February 2008. It has been a major logistics hub of the Eurasian transport corridor for more than 130 years.

/Trend/