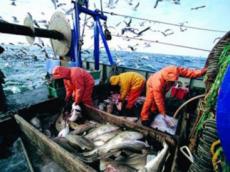 Some 800 tons of fish were caught in Azerbaijan in 2013, the Azerbaijani State Statistics Committee said on Feb. 6.
A total catch of 793.8 tons of fish comprising 206 tons of sprats, 150 tons of herring, 125 tons of mullet, 117 tons of kutum, 72 tons of vobla, 59 tons of bream and more than 60 tons of other fish species were caught with a 1166.8 ton quota allocated for 101 legal and physical entities in 2013, according to the rules of using fish and other aquatic biological resources.
Fishermen paid 16,400 manats by receiving the quota.

/Trend/