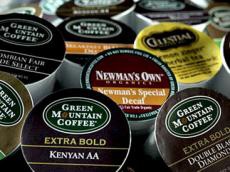 Green Mountain Coffee Roasters Inc, maker of the popular Keurig one-cup coffee brewer, said on Wednesday the Coca-Cola Co (KO.N) had bought a 10 percent stake in it for $1.25 billion and would help launch Green Mountain's new cold drink machine planned for release as soon as October.
Shares of Green Mountain (GMCR.O) soared 42 percent to $114.85 in extended trading, while those of its likely new rival, SodaStream International Ltd (SODA.O), retreated 3.9 percent to $34.39.
Under their 10-year agreement, the companies will collaborate on the development and introduction of Coca-Cola products on Green Mountain's upcoming machine that will serve both carbonated and non-carbonated beverages, including soft drinks, tea and juice.
Green Mountain's Keurig machine popularized the use of pods - small packets containing everything from coffee, tea or hot chocolate powder - for easy, in-home, one-cup brewing of hot drinks. The company has sold more than 30 million Keurig machines around the world for use in homes, offices and other locations.
The deal will make Green Mountain the global exclusive partner for the production and sale of Coke's branded single-serve, pod-based cold beverages, the companies said.
Still, Green Mountain also retains the option to sign deals with other cold drink makers, President and Chief Executive Brian Kelley told Reuters.
That includes Coke rival PepsiCo Inc (PEP.N), which last year shot down rumors it planned to buy SodaStream. A spokesman for Pepsi declined comment for this article.
"We'll do deals with brands consumers love," said Kelley, who added that Green Mountain has coffee deals with most major chains, including Starbucks (SBUX.O) and Dunkin' Donuts.

/Reuters/