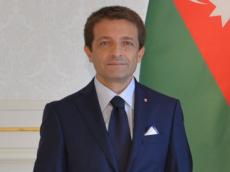 By AzerNews
The business meeting between Italian and Azerbaijani delegations was held in Baku on February 4.
The meeting was co-organized by the Italian Trade Promotion Agency (ITA) and Federlegno Arredo Organization.
It was attended by about 50 Italian companies, including Fantoni Spa, Torterolo & Re SpA, Elle, Citterio F.Ili, Bizotto Srl, Annibale Colombo, FLOU SpA, Scacolini SpA, Morello Gian Paolo, Codital Srl, Lineafabbrica, OAK Industrie SpA and La Cividina, working in such areas as construction and furniture.
Addressing the event, Italian Ambassador to Azerbaijan Giampaolo Cutillo said Italian companies are interested in expanding relations with their Azerbaijani counterparts.
"We attach great importance to trade and economic cooperation with Azerbaijan," the ambassador said. "Such events contribute to the deepening of relations. We understand that the ground is ready for establishment of business relationship with Azerbaijan. Thus, we lend our support to Italian entrepreneurs in Azerbaijan."
Head of Italian Trade Promotion Agency (ITA) and Section of the Italian Embassy in Azerbaijan, Luigi D'Aprea, in turn, urged Italian entrepreneurs to cooperate actively.
Moreover, during the meeting, Italian companies agreed to pay a visit local companies on February 5.
A business meeting between Azerbaijani and Italian entrepreneurs was also held on January 23. The event brought together over 50 businessmen representing Azerbaijan's construction, tourism, furniture industry, retail, and wholesale trade sectors and Italian representatives from MADE SpA Company specializing in construction, restoration, and design, the Beghelli group that produced lighting systems, home electronics, and security systems, as well as several other companies.
Italy remains the largest importer of Azerbaijani goods. Almost a quarter of Azerbaijan's export went to Italy in January-July 2013, compared to 22 percent in the same period in 2012. Currently, 45 Italian companies operate in Azerbaijan in insurance, banking, trade, and other areas.