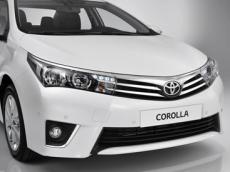 Japan's Toyota sold a record 9.98 million vehicles last year, it said  on Jan. 23, outpacing rivals General Motors and Volkswagen to maintain its title of world's biggest automaker.
The auto giant's highest-ever annual sales volume came thanks to a weaker yen and strong U.S. sales, signaling it had recovered from a series of damaging safety recalls and Japan's 2011 quake-tsunami disaster. The figures beat U.S.-based GM, which said it sold 9.71 million cars last year, while Germany's Volkswagen logged annual sales of 9.5 million.
Toyota broke GM's decades-long reign as world's top automaker in 2008 but it lost the crown three years later as the quake-tsunami hammered production and disrupted the supply chains of Japanese automakers. However, in 2012 it once again overtook its U.S. rival, which sells the Chevrolet and luxury Cadillac brands.
Yesterday, the Japanese maker of the Camry sedan and Prius hybrid said it expects this year to become the first car maker to break the 10 million barrier.
Toyota has outmaneuvered other automakers with a "comprehensive edge" in product lineup, sales network and cost structure, said SMBC Nikko Securities auto analyst Shotaro Noguchi.
"They have maintained that balance well, compared to its rivals," he said. "Toyota should have reached the 10 million mark sooner if they had not faced major negative factors like the impact of the quake disaster and flooding in Thailand."

/HurriyetDailynews/