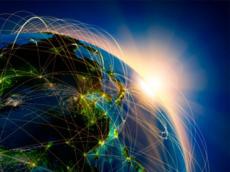 The final agreement for the Trans-Eurasia Information Super Highway (TASIM) construction project will be signed in the first quarter of 2014.
The statement came from Zaur Hasanov, head of the TASIM working group, who said the agreement would include legal commitments of the participants, distribution of expenditures and incomes, the traffic control mechanism and other issues.
The participants of the Trans-Eurasia Information Super Highway (TASIM) project signed a memorandum of understanding on the sidelines of the 19th Azerbaijan International Telecommunications and Information Technologies Exhibition in Baku.
TASIM is a project of regional importance which aims to lay down a transnational fiber-optic line covering the countries of Eurasia from Western Europe to Eastern Asia.
The project envisions the creation of a major transit link from Frankfurt to Hong Kong. The line will connect the major centers of information exchange in Europe and Asia together, stretching through China, Kazakhstan, Azerbaijan, Georgia, and Turkey to Germany. A reserve North transit line will traverse the territory of Russia, Ukraine, and Poland.
The TASIM project will contribute to creating an open information society in the region, increasing the speed of Internet connection, and promoting the development of Internet services which, in turn, will lead to economic development, economic diversification, and increased competition.
TASIM is able to guarantee an uninterrupted connection between Europe and Asia, saying most of the fiber-optic routes connecting Asia to Europe and the U.S. are laid on the seabed.
The UN has adopted three resolutions to support TASIM project.

/AzerTAc/