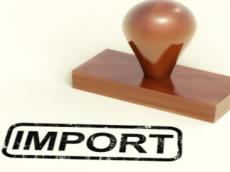 By AzerNews
Azerbaijan's cabinet has adopted a new rule enabling the government to change the price of imported products contracts in case a law violation is detected.
Based on the rule published in official press on January 8, the government can make the changes before products are available for use in the market. The importers have a ten-day time to complain or ask for revision of the government's proposed prices. In case of no settlement, the issue would be referred to the Customs Department or a superior body within 10 days.
The rule also envisages that the customs payments would be returned to the importers in case they can prove that no law violation has been occurred while drawing up their contracts.
The decision about indemnity or refusal will be adopted within 15 days because filing an appropriate request and the judicial process takes some time.
Azerbaijan's imports mainly include food and products of daily consumption, machinery and equipment, automobile cars and trucks, mobile phones, metal goods, semi-finished products for preparation of various metal pipelines, construction materials, cement, wood, glass, etc.
The Cabinet of Ministers has also approved the rules of customs valuation of information carriers. According to the rules, the customs value of information carriers is determined on the basis of contract price, which includes the value of the carrier. If the carrier contains defined data or information, its price should be detached from the value of the information carrier and showed separately.
The document also said the customs bodies, if necessary, have the right to use secret and confident information contained in the imported carrier, to determine its customs value. However, the customs body does not have the right to pass this information to third persons without the permission of the data owner.
The person, who imports the products can appeal the decision of the customs body and refer to a superior body if he/she does not agree with the charged customs value. His/her appeal would be considered only within 10 days after custom's decision.