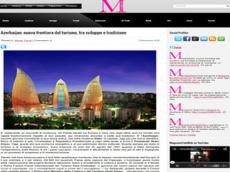 Italian "M il Magazine" has published an article titled "Azerbaijan: new border of tourism between development and tradition".
The article stresses the ancient history of Azerbaijan which is today considered to be one of the modern countries in the world. Being an oil country Azerbaijan`s tourism sector has developed significantly over the recent years.
The author underlines that the development model of Azerbaijan can be an example for the other countries of the South Caucasus.
The article also features opinions of Azerbaijan`s First Deputy Minister of Culture and Tourism Vagif Aliyev, the country`s ambassador to Italy Vagif Sadigov, and President of the Italian-Azerbaijani Trade Institute Manuela Traldi on the development of Azerbaijan`s tourism sector.