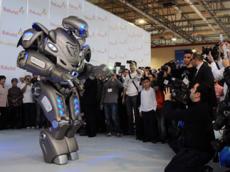 Azerbaijan was the first country in the CIS to host Titan the Robot, an entertainment concept utilised by event management companies worldwide, when it was presented at the Bakutel 2013, the largest telecommunication and IT exhibition in the Caspian region.
Titan has travelled around the world - from Tokyo to Vancouver. He was a guest at the ABU DHABI F1 GRAND PRIX and taken part in the presentations of the most prominent companies and brands. Titan was performed live on tour with Rihanna, the worldwide superstar, which led to him being introduced to famous celebrities like Will Smith, Jackie Chan, Robert Downey Jr, Adam Sandler, Katy Perry, Steve Carell, Snoop Dogg, Justin Bieber, Chris Rock and Taylor Swift.
He has also appeared as an actor in Real Steel and visited the premiere together with Hugh Jackman and Director Shawn Levy. The robot is a frequent guest at Daybreak morning TV show in the United Kingdom, has made many TV appearances on The Gadget Show with presenter Pollyanna Woodward and has also been seen on the BBC.
Titan is a 2.5 metre tall robot - it costs as much for him to fly here from the USA as several military Hummer jeeps. The first time the audience sees Titan, the excitement is palpable. The massive moving, talking robot is almost terrifying at first, but after a few minutes everyone falls in love with him and wants to come close and touch him!
/AzerTAc/