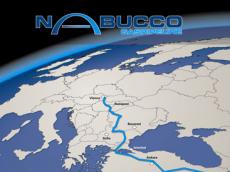 The Nabucco West gas pipeline project has not lost its significance and can still be implemented, Minister of Industry and Energy of Azerbaijan Natig Aliyev said to journalists on Wednesday.
"These two projects, Nabucco West and the Trans-Adriatic gas pipeline have different goals and the choice of TAP does not exclude implementation of Nabucco," N.Aliyev said.
According to him, the main issue is the amount of resources. Also implementation of Nabucco will depend on expansion of resource base - natural gas volumes. Implementation of the TAP project must give impetus not only to gas extraction, but also to discovering new reserves.
"I am sure that Azerbaijan has great opportunities in gas extraction. The country can extract 40 billion cubic meters of gas per year after 2020. It will be possible if TAP and TANAP launch on time and if partner companies continue actively working," the Minister said.
In the future, according to N.Aliyev, it is not expected to increase the demand for natural gas in TAP.
A consortium of the Azerbaijani Shah Deniz gas condensate field development with about 1.2 trillion cubic meters of gas reserves, announced its choice of the TAP project in late June as a gas transportation route to European markets. Nabucco West was the second pipeline that competed for the transportation of Azerbaijani gas to Europe.
TAP is designed to transport gas from the Caspian region via Greece and Albania and across the Adriatic Sea to southern Italy and then to Western Europe.
The initial capacity of the TAP pipeline will be 10 billion cubic meters per year with the possibility of expanding to 20 billion cubic meters per year.
TAP shareholders are AXPO (42.5 per cent), Statoil (42.5 per cent and E.ON Ruhrgas (15 per cent).
The construction of TAP is expected to start in 2015.
/Trend/