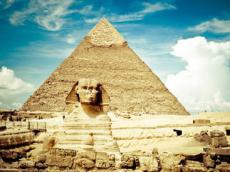 By AzerNews
The events in Egypt essentially have not affected Azerbaijani travel agencies' work, Advisor to the Chairman of Azerbaijan Tourism Association (ATA) Muzaffar Agakerimov said on August 21.
According to Agakerimov, this is due to the fact that local companies are working with the use of alternative routes. There can be force-majeure situations in the tourism sector, therefore, alternative travel routes are organized.
"Professional travel agencies sign agreements not only for travel to one country. They organize trips to various destinations, so, the events in Egypt did not very much influence the work of travel agencies and did not harm them," Agakerimov said.
According to official sources, at least 850 people, including 70 police and soldiers, have been killed in a week's time in Cairo in the clashes between supporters of former Egyptian President Mohammed Morsi and the Egyptian security forces, Reuters reported on August 19.
The Azerbaijan Tourism Association (ATA) recommends all travel agencies to sign different alternative agreements in Europe, the Middle East, and Asia. This will expand the geography of places that tourists can visit and will allow travelers to obtain detailed information about culture and history. Currently ATA is working to develop tourism ties with Macedonia, Hungary and Bulgaria.
Agakerimov also said that Egypt is one of the most popular countries in world tourism and Azerbaijani tourists have always taken and will take interest in Egypt. However, because of the events in Egypt it is necessary to temporarily suspend trips to the country.
In turn ATA Head Nahid Bagirov said that currently Azerbaijan's travel agencies do not arrange any trips to Egypt and those who want to visit this country can only do so individually.
In connection with the events in Egypt, about 50 citizens of Azerbaijan were evacuated. Azerbaijan's Culture and Tourism Ministry urged Azerbaijani citizens not to travel to Egypt temporarily.
A plane carrying 55 Azerbaijani citizens evacuated from Cairo landed in Baku on August 19.
On August 15 Russia's federal tourism agency recommended that Russian tour operators no longer sell tours to Egyptian resorts and return the money for the sold scheduled trips. The Russian Foreign Ministry suggested to the Russians not to travel to Egypt. However, Egypt's Minister of Tourism Hisham Zaazua asked the Russian Foreign Ministry to withdraw the recommendation and assured Moscow in the safety of the resorts.
Head of the Russian Federal Agency for Tourism Alexander Radkov does not predict bankruptcy of the Russian tour operators due to the worsening of the situation in Egypt and the suspension of the sale of tours in this country.
He said that due to the reduction in tourist traffic to Egypt and the suspension of sales of tours to the country losses of Russian tour operators will amount to tens of millions of dollars.
As for Georgia, the local travel agencies had to cancel trips to Egypt, and their losses amounted to about $500,000. According to representative of the Tour G company Mamuka Djikia, most customers canceled their reservations, and these tourists were redirected to Turkey. Therefore, the company has sustained a major loss.
As is known, the Georgian Foreign Ministry has called on citizens not to travel to Egypt.