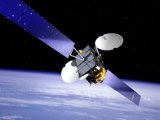 Source:
/AzerNews/
A project on launching of Azerbaijan's low-orbit satellite has been developed, Azerbaijani Communications and Information Technologies Minister Ali Abbasov told journalist on August 23.
"In the near future it is planned to announce a tender for the construction of a low-orbit satellite in Azerbaijan," Abbasov said.
Earlier, results of the previously announced tender for construction of low-orbital satellite in Azerbaijan were revoked because of the higher requirements for certain technical parameters of the satellite.
Launching the low-orbit satellites is scheduled for 2015.
The Azerbaijani space agency Azercosmos conducted a study on the low-orbit satellites benefits for domestic and foreign markets.
The satellite operator is preparing a business plan on the possibilities of application and usage of the space radar and optical images, both in Azerbaijan and in the regional markets.
Currently, Azercosmos is working to establish a cross-functional earth station, which will also be used to receive satellite images from other satellites flying over the region. Works on the station are expected to finish by the end of 2013.