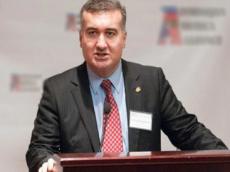 Source: AzerNews
Azerbaijan, as an oil and gas exporter, not only seeks market competition, but also seeks to be part of the energy security of the European region by diversifying the production of natural resources to the world markets.
Azerbaijani Ambassador to the United States Elin Suleymanov made the remark at the Sunday talk show - Platts Energy Week with Bill Loveless. The show titled 'Azerbaijan - Key Junction for Energy Markets' mulled the upcoming Nabucco West vs. Trans Adriatic Pipeline (TAP) pipeline decision, the need for energy diversity for Europe and the importance of US support for oil and gas exploration in Azerbaijan.
Speaking about the key criteria for the decision of the Shah Deniz Consortium between the upcoming Nabucco West and TAP pipeline projects, Suleymanov said that the leading companies are scaling the three important issues right now, technical, legal and commercial aspects in order to make a final decision in the matter.
The consortium developing Azerbaijan's giant Shah Deniz field in the Caspian Sea has begun evaluating final offers it has received from Nabucco West and TAP for transportation of Shah Deniz Stage 2 gas to Europe since late March. A final decision on the pipeline route is due to be made in late June 2013.
The ambassador also noted the support of the U.S. administration during the implementation of Baku-Tbilisi-Ceyhan (BTC) oil pipeline project.
He said that Azerbaijan hopes that the United States will continue its active support, which has been so evident in recent years.
Touching upon the role of international companies such as BP, ExxonMobil, Statoil, in the development of the oil industry of Azerbaijan, Suleymanov said that Azerbaijan's energy giant SOCAR has also become an international company and begins to play a role in the development of other countries.
Azerbaijan is an important current and future supplier of both oil and natural gas. Azeri-Chirag-Guneshli and Shah Deniz are the country's largest hydrocarbon deposits, which are located in the Caspian Sea.