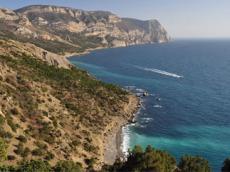 The Crimean Resorts and Tourism Ministry is planning to open 24 resort and tourist offices abroad, including Baku, Resorts and Tourism Minister Oleksandr Liyev said.
"We will open 24 Crimean resort offices outside of Crimea in the next one-and-a-half years, starting from this year. Seven of them will open in Ukraine. The rest will open in Russia. One has recently opened in Moscow, and another will open in St. Petersburg next week," he told reporters in Kyiv on Tuesday.
He said that such offices would also open in Yekaterinburg, Tyumen, Chelyabinsk and Novosibirsk. In addition, the first such office in Europe opened in Riga, and one office will open in Baku next week.
Liyev said that Crimea`s office in Kyiv opened on Tuesday.
"We are ready to offer our services at all of these offices so that they represent not only Crimea, but also the sanatorium and resort potential of the whole of Ukraine," he said.
/AzerTAc/