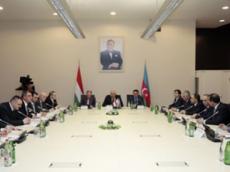 By AzerNews
Baku hosted an Azerbaijani-Hungarian business forum organized by Azerbaijan Export and Investment Promotion Foundation (AZPROMO) as part of a visit of Hungarian State Secretary for Rural Development Gyula Budai on Wednesday.
The business forum was attended by Hungarian and Azerbaijani officials and companies representing sectors such as construction, food industry and ICT, as well as livestock, poultry, grain-growing, agricultural equipment production, milk and biotechnology research.
Speaking at the event, Azerbaijani Deputy Economic Development Minister Niyazi Safarov stressed the importance of events joined by businesspeople for expanding trade and economic relations. Safarov noted that the business meeting would be productive in creating new opportunities for cooperation and expanding the existing relations.
Deputy Agriculture Minister Bahram Aliyev also cited the vast potential for cooperation with Hungary in a number of agricultural sectors including cattle breeding, poultry, and agro-processing.
In turn, Secretary Budai said that Hungary attaches great importance to the cooperation with Azerbaijan, stressing great potential for further expansion of economic relations.
Budai also stressed the importance of the business meeting in this regard.
Addressing the event, AZPROMO head Rufat Mammadov spoke about Azerbaijan's economic success, favorable business and investment climate, and major projects.
Terming Azerbaijan as an attractive and favorable country for foreign investment, he invited Hungarian businessmen for active cooperation.
At the meeting the sides signed a protocol of the Subcommittee on Agriculture, established within the Azerbaijani-Hungarian intergovernmental commission.
Also, detailed information on Azerbaijani investment opportunities was provided and issues of interest to the Hungarian businessmen were voiced at the event.
Expansion of agricultural co-op
Hungary intends to expand its cooperation with Azerbaijan in the field of agriculture, Budai told media later on Wednesday.
According to Budai, the sides may cooperate in areas such as livestock, poultry and dairy products.
"Hungary is interested in exporting cattle to Azerbaijan," he said, adding that the sides also consider cooperation in environment, in particular, ground water treatment and elimination of erosion and soil contamination consequences.
Budai stressed that the two countries may also cooperate in the field of gardening and vegetable growing.
The Hungarian delegation including representatives from both the public and private sectors of the economy was on a visit to Azerbaijan March 11-14.
The first Hungarian international trading house was opened in Azerbaijan in December 2012.
The trading house was established to develop cooperation between Azerbaijan and medium-sized businesses from Hungary, which is required to further export their products to Azerbaijan.
Hungary recognized the independence of Azerbaijan in 1991, while diplomatic relations between the two countries were established in April 1992.