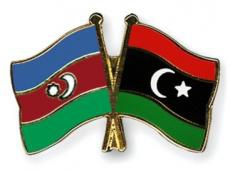 By AzerNews
Azerbaijan is keen on investing in oil and gas sector of Libya.
Speaking at the meeting with Chairman of the Libyan National Oil Company Nuri Berruien, Azerbaijani ambassador to Libya Aghaselim Shukurov stated that the country is interested in the Libyan oil and gas sector.
The envoy voiced intend of the Azerbaijani companies to participate in the drilling work in hydrocarbon fields of Libya.
Besides, Azerbaijan seeks to invest in modernization of methanol producing plant, as well as in construction of new plants in Libya, Shukurov said.
In turn, Berruien invited the representatives of Azerbaijani companies to visit Libya to get acquainted with the conditions in the energy sphere of Libya.
The Azerbaijani companies would invest in various energy projects in the country both individually and jointly with Libyan companies, Berruien mentioned.
Members of the board of Libyan National Oil Company Mustafa Sanaallah and Muhammed Al-Imari also attended the meeting.
Earlier in February, Shukurov met with Libyan Oil and Gas Minister Abdel Bari Ali Al-Arousi where he mentioned that the Azerbaijani companies are interested in construction of petrochemical plants in Libya.
"Azerbaijan is also interested in investing in upgrading of existing petrochemical plants in Libya," he said adding that the delegation of major Azerbaijani companies will visit Libya in the near future.
In turn, Al-Arousi noted that the cooperation between Azerbaijan and Libya in the field of oil and gas will boost development of both countries' economies.