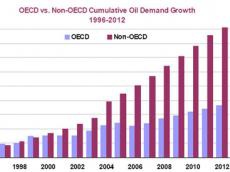 Global oil demand will increase by 840,000 barrels per day (bpd) to 90.7 million bpd in 2013, the International Energy Agency's (IEA) report on oil market, published on Wednesday, said.
This growth projection is 90,000 bps less than estimated last month. The reason for downward revision is cutting down of International Monetary Fund's global GDP forecast to 3.5 percent, from 3.6 percent.
According to the IEA's estimates, global oil supplies fell by 300,000 bpd to 90.8 million bpd in January. Non-OPEC production, according to the estimates, decreased by 190,000 bpd to 54.2 million bpd last month.
The agency expects non-OPEC production to increase by 750,000 bpd in the first quarter of 2013. For 2013, non-OPEC supply is projected to rise by 1 million bpd to 54.4 million bpd.
According to the IEA's estimates, OPEC oil supply hit 12-month lows in January, off by 100,000 bpd to 30.34 million bpd despite slightly higher output in Saudi Arabia and Kuwait.
/Trend/