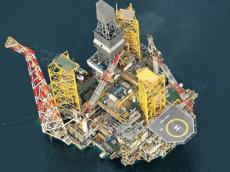 Azerbaijan plans to deliver Shah Deniz gas to Europe in 2019. The Shah Deniz partners will make the final investment decision in October, 2013," vice president of the State Oil Company of Azerbaijan (SOCAR) Elshad Nasirov has today said at a meeting of the Euronest PA Energy Committee in Baku.
He said the Shah Deniz-2 project could be realized by 2018 and the natural gas would be delivered to Europe in 2019.
"Europe considers natural gas problem a political issue. But both the SOCAR and other companies in the consortium regard this issue as a commercial transaction, but not as a political deal."
"Azerbaijan is interested in exporting its natural gas via other routes alongside with the Trans-Anatolian gas pipeline (TANAP). We have held relevant discussions and came to an agreement," Nasirov added.
/AzerTAc/