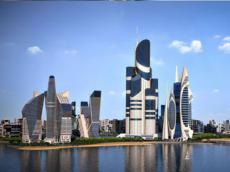 "Azerbaijan is building a world-class city of artificial islands off the Caspian Sea. Under the Khazar Islands project, a contract was signed with three leading world companies on investing 50 mln Euros.
The companies will finance the construction of 6 buildings or 200,000 sq m area" the president of the Avesta Group, Haji Ibrahim Nehramli said.
Work on the project to date has been funded by the Avesta Group itself. The firm hopes to reach annual profitability margins of 10-15 percent on investments.
The massive, 2,000 hectare project is the first of its kind in the region, and will consist of over 40 man-made islands connected with suspension bridges (66 of them), pedestrian walkways, and innovative infrastructure.
The first phase of the Khazar Islands project will include residential and social facilities and restaurants and will be completed in 2016.
The Azerbaijan Tower will be built as part of the second phase.
The floating metropolis will be home to more than one million people upon its projected completion in 2022, though many residents will be able to move in as soon as next year.
The completed city will boast more than 150 schools, numerous hospitals, and clusters of parks, shops, and cultural centers – not to mention the impressive, kilometer-high Azerbaijan Tower.
A yet-to-be-constructed airport will provide international access to the area.
The islands will be dominated by high-rise buildings and resort-like accommodations, with miles of unspoiled beaches and warm, shallow waters.
Special considerations were taken in design of the island`s structures to withstand up to a 9.0 magnitude quake in the region.
Construction of what will be the world`s tallest building, the Azerbaijan Tower, is expected to cost $2bn.
The Azerbaijan Tower will be 200 m higher than the world`s current tallest building - Burj Khalifa, and 50 m higher than the Kingdom Tower to be built in Jeddah, Saudi Arabia.
/AzertAc/