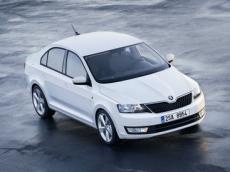 The full line of SKODA cars will be renewed soon at  "SKAZ Avto"  dealerships.
A compact sedan SKODA Rapido opens a new class for SKODA. Rapid -  is a representative of SKODA a new class and a significant element of our strategy and growth. We believe that the new model will soon be the second car after SKODA Octavia to have largest sales volume in Azerbaijan.
In the full line, SKODA Rapid will be between the compact Fabia and liftback Octavia. The car is unique for its dimensions (length / width / height: 4483 mm/1706 mm/1461 mm): none of the members of its class offer as much space in the cabin and as large luggage compartment (550 liters) as SKODA Rapid. Moreover, this car will be notable for its efficiency (city / highway / combined: 5.6 l. / 3.7 L / 4.3 L), which is a significant factor.
SKODA Rapid is the first production car of the brand new design: attractive, modern, dynamic and elegant. In addition, this model will come in the market with a new logo of SKODA.
In the sphere of security SKODA Rapid combines a high level of active and passive safety. The engine line includes four petrol and two diesel engines, as well as five Green tec - ecological engines.
Abdul Kadyrov, president of "SKAZ Avto" Ltd, emphasized: "We'll go on selling Skoda cars in Azerbaijan, which a notable for their quality. Also, new models notable for their perfect design and ecological compatibility will soon appear in SKAZ Avto showrooms."
We also want to note that you can buy SKODA Rapid at 9-percent annual interest rate and 5-year warranty.
Our "SKAZ AVTO" ltd showroom will invite you to the world of quality, superior technical characteristics, ecological compatibility, and design.
For more details about SKODA models call:
050 333 43 66
050 235 84 84
You can get more detailed consultation at our showroom.
Address of the official  of SKODA in Azerbaijan "SKAZ Avto" ltd:
Ziya Bunyadov, 71 S,.Baku
Contacts:
Skoda Baku Centre - 567 06 00
Skoda Ganjlik – 050 239 04 94
Skoda Ganja – 055 365 78 88
Skoda Khachmaz – 055 440 41 43