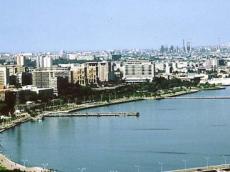 BIHE 2012, the 18th Azerbaijan International Healthcare Exhibition will take place from 27 to 29 September 2012 at the Baku Expo Center.
The region`s only medical and healthcare exhibition, BIHE is a key meeting place for representatives of Government bodies, producers of medical equipment, practising doctors, and professionals from across the medical industry.
Over 100 companies from Azerbaijan, Belgium and Russia will exhibit this year, presenting a wide range of products: medical and laboratory equipment, medicines and drugs, supplies, disinfectants, orthopaedic products and much more. Exhibiting companies including Siemens, Draeger, Toshiba and others will showcase brand new medicines and technologies for doctors, and exhibitors will also offer brand new healthcare breakthroughs such as high-tech diagnosis and treatment methods, efficient technologies and services and medical equipment.
All this makes BIHE a productive platform for negotiating cooperation, discussing industry development, and demonstrating the latest trends and medical know-how to a wide range of healthcare professionals.
Also taking place from 27 to 29 September alongside BIHE 2012 are Stomatology Azerbaijan 2012 and Beauty Azerbaijan 2012.