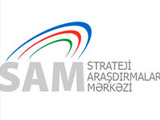 SAM energy expert Gulmira Rzayeva's article titled "Azerbaijan's outlook in the Southern Corridor" appeared in the prestigious German "Gas for Energy" magazine. In the article, the author analyzes Azerbaijani interests in the mega project and gives comparative analysis of two competing pipeline for transportation of Shahdeniz II gas to Europe.
The expert underlines that in approximately 6-12 months the SD consortium will make a strategic decision of historic significance concerning the selection of the main export pipeline whose construction will inaugurate Europe's Southern Gas Corridor strategy. The two final pipeline projects Nabucco West and TAP (Transadriatic pipeline) under consideration by the SD shareholders offer SOCAR and its partners several advantages and disadvantages.
The selected evacuation route must be the most commercially viable and the selected market should be able to offer to the sellers a long-term security of demand for a period of at least 20-25 years. The SD decision is not a merely commercial decision since it will benefit the people of Azerbaijan for decades to come. There is no room for errors. Even the slightest mistake can have a negative impact on the future well being of the country.
You can read the article from this PDF file - http://sam.az/pdf/mag.pdf
/
AzerTAc
/