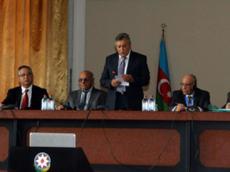 The IV International Conference "Problems of Cybernetics & Informatics" (PCI -2012) has started in the capital of Azerbaijan, Baku.
During the conference Deputy Communications & IT Elmir Velizade has stressed the growing ICT role, told of E-Government Project and importance of solving the problems of cybernetics and computer science in the process of achievement of innovation development.
Speaking at the conference Telman Aliyev, head of the Institute of Cybernetics of the National Academy of Sciences of Azerbaijan, professor Nana Skalska (Czech Republic), Nozer Singpurwulla (USA), Anna Maria Gil-Lafuenten (Spain) and others emphasized the increasing importance of holding such conferences to exchange information and co-operation between research institutes, as well as research and development activities carried out in the country in the field of cybernetics and computer science. The conference participants were informed about the new methods, models of solution of problems in seismology, stochastic analysis, computational mathematics, Cloud Computing technology.
Within the conference to last until 14 September there will be breakout sessions to hear out reports on intelligent technologies and systems, seismic devices, systems and technologies, modeling and identification, applied stochastic analysis, decision-making in social and economic systems.
/
AzerTAc
/