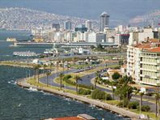 The 11st ERRA Energy Investment & Regulation Conference will be hosted by the Energy Market Regulatory Authority of Turkey in Izmir, Turkey on October 15-16, 2012.
The conference offers a high level 2 day programme including electricity and gas sessions focusing on the CEE, SEE, and CIS regions. The event gathers high level speakers and representatives from the ERRA-member regulators, European institutions, industry, international organizations, producing countries, consumers and press.
Conference themes are: Energy Market in Turkey: Development, Investments and Perspectives; Infrastructure Development to Support Cross Border Trade; Climate Changes Issues and Regional Market Creation.
Azerbaijan`s Tariff Council will participate in the conference. The Energy Regulators Regional Association (ERRA) is a voluntary organization comprised of independent energy regulatory bodies primarily from the Central European and Eurasian region, with Affiliates from Africa, Asia the Middle East and the USA.
The Association's main objective is to increase exchange of information and experience among its members and to expand access to energy regulatory experience around the world.
To date ERRA lists 23 Full, 3 Associate and 6 Affiliate Members. The Association was legally registered in Hungary in April 2001 and its Secretariat operates in Budapest. NARUC and USAID have been providing continuous support for the operation of the Association.
/
AzerTAc
/