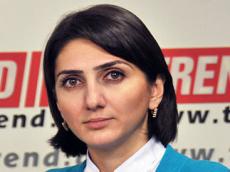 The fall of the dollar and the euro rates does not provoke panic among the Azerbaijani population. It became clear long ago how to keep savings.
According to the Azerbaijani Central Bank, as of June 1, about 56.4 percent of the Azerbaijani population's deposits in local banks were placed in the national currency, while the rest were in free convertible currency.
The imbalance of the economies of U.S. and euro zone weakens the positions of the two world currencies, while disappointing forecasts of influential Western experts on the fate of the dollar and the euro arouse even greater confidence in their own currency. Today one can
say with confidence about sufficient high reliability of the national currency - manat. It will definitely rise compared to the dollar and the euro.
Besides external factors, such an internal factor as a positive foreign trade balance of the country contributes to strengthening manat. It reached $8.25 billion during the first half of 2012. The greater the volume of exports, the higher the exporting countries' demand for domestic currency to pay their costs for production of goods or services they supply to the world market and, consequently, the rate of the manat will be higher.
The influx of dollar revenue from selling export oil at world prices higher than that in the state budget, as well as the flow of foreign capital invested in fixed assets in the country continue.
However, the overly abundant strengthening of the official exchange rate of national currency compared to foreign currencies is fraught with consequences for the country's economy. Thus, the Azerbaijani Central Bank carried out a monetary sterilization to the amount of
$639 million in the first half of 2012 to maintain the stability of manat in terms of large balance of payment. As a result, the rate of manat compared to the U.S. dollar during the period increased by 0.11 percent.
It is known that the rates of strengthening the national currency compare to the U.S. dollar during the year must not exceed 5-6 percent, as the excess of this figure represent a danger to the economy as a whole, in particular foreign exchange reserves, and bank depositors because about 43.6 percent of deposits of Azerbaijani population have been placed in freely convertible currency.
Strong strengthening of manat is disadvantageous to Azerbaijan as this hits the national production, reduces the competitiveness of domestic products abroad and worsens the position of sectors oriented to domestic demand. This does not correspond to the non-oil sector development strategy. But at the same time, the steady decline of manat rate deprived the country's economy of the stimulus to the savings required for investments. Therefore, one thing remains. It is to ensure the stability of the manat.
Ellada Khankishiyeva /
Trend
/